Simply connect your Bluetooth stereo devices wirelessly to the speaker system and forget the hassle of wires, you are all set for high-quality audio.
The aptX audio codec ensures high-quality Bluetooth audio playback with its superior low-latency Bluetooth connectivity. Seamless wireless audio is now a dream come true.

You can now enjoy realistic surround sound for your favorite 5.1-encoded movies, games or music simply by plugging the speakers via a USB connection.
With the innovative Swivel-Speaker-Array design, you can switch from stereo to surround mode easily by rotating the top portion of each satellite speaker..
The powerful Creative SLAM™ subwoofer is tuned to perfection to bring you realistic heart-thumping lows for a completely engaging gaming or movie experience.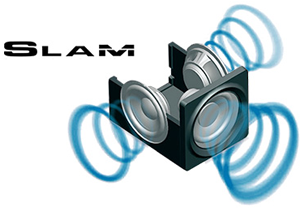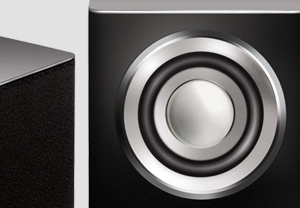 Two high-end drivers on each satellite bring you full-bodied mids and soothing highs for a pleasant all-rounded audio experience.

The speaker system's satellites can also be wall-mounted, making them ideal for TV speakers in the living room. Simply remove the detachable satellite desktop stands and they're ready to be mounted (brackets not included).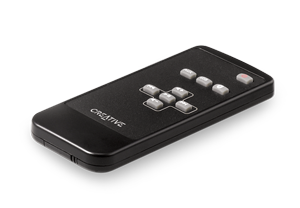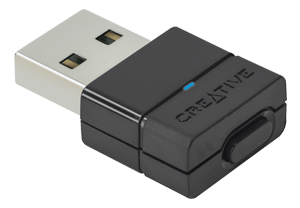 The handy all-in-one digital control pod gives you easy access and control over the speakers' functions. Select the audio source (Bluetooth, USB or AUX-in), adjust the volume or initiate Bluetooth pairing. For private listening, you can also output audio to headphones.
Control your speakers from across the room with the included IR remote. Select the audio source, adjust the volume or control music playback with ease.
The speaker system comes with the Creative BT-D1 transmitter, which will transmit the high-fidelity stereo sound wirelessly from your desktop or notebook - PC or Mac with its Bluetooth and aptX technology. That is not all, you can also get the BT-D52 transmitter for use with your iPhone and iPod. Also featuring the Bluetooth and aptX technology, you can just simply plug and play without any additional drivers to enjoy seamless audio!
1 Minimum system requirement: available USB port, 5.1 decoder software on PC/Mac.
2 The BT-D5 is compatible with iPod touch (1st, 2nd, 3rd and 4th generation), iPod classic (this refers to the 6th generation iPod or later), iPod nano (3rd, 4th 5th and 6th generation - iPod nano 5th generation's radio feature not supported), iPhone, iPhone 3G, iPhone 3GS and iPhone 4. The BT-D5 is not included in the package and can be purchased separately from Creative.com.