A second skin like no other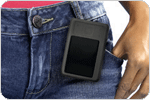 Choose from the vibrant color trio of fiery red, chic blue or mysterious black, as you decorate your Creative ZEN MP3 player with the ZEN Skin Pack accessory.
Clip your player on you or your bag for easy and unrestricted access. The silicone cover also fits like a second skin and protects your Creative ZEN from unnecessary knocks or scratches.