Free your music with wireless audio
Experience a whole new realm of audio freedom with the Creative Inspire S2 Wireless speaker system featuring Bluetooth® wireless technology. You can now stream music from any compatible stereo Bluetooth wireless device from anywhere in the room. Enjoy crystal clear audio from its two petite yet high-performance satellite speakers and the highly efficient Creative DIRECT-THROW subwoofer, which delivers dynamic mid bass - bringing your music to life instantly!
Ideal for notebooks, simply connect the bundled USB Bluetooth transmitter and turn your computer into a wireless entertainment station! With instant connectivity at your fingertips, take control of the music now with the Inspire S2 Wireless speakers.
"Wireless" refers to the wireless Bluetooth audio transmission between the Inspire S2 Wireless and wireless devices or the transmitter. Cables are still needed to connect the satellites to the subwoofer and are included in the package.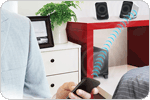 Play songs wirelessly from your mobile phone or any compatible stereo Bluetooth device a hassle-free pairing.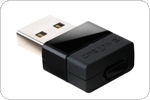 Simply plug in the included USB Bluetooth transmitter to your computer's USB port and enjoy wireless audio through the speaker system.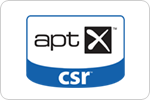 Low latency audio codec for high quality wireless music playback.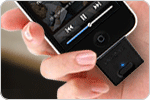 Plug in the
Creative BT-D5 Bluetooth transmitter
(sold separately) into your iPhone or 30-pin iPod
1
and stream music wirelessly to the Inspire S2 Wireless or other
Creative wireless speakers
!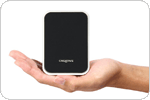 The speakers may literally be palmed-sized but they pack one solid punch. Backed by quality drivers, get ready for a highly enjoyable listening experience.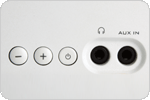 Key functions such as volume and Power On/Off are easily accessible via the right satellite speaker. You can also plug in your headphones for private listening. Want to switch to your MP3 player? Simply connect it via the AUX-in jack.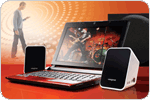 The two trendy satellites with cloth grilles and subwoofer come in a small-footprint design which optimizes space on your desktop and reduce unnecessary clutter. The speakers fit perfectly into small spaces with minimal hassle.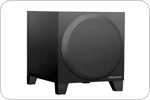 The highly efficient
Creative DIRECT-THROW subwoofer
design with flared slot type port-tube gives you excellent heart-thumping bass for exhilarating movies. Place it in the corner under your desk for maximum impact!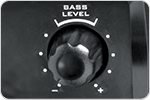 You can set your desired bass level simply by adjusting the conveniently located knob on the subwoofer. Get clean, explosive bass from the 19-Watt subwoofer, just the way you want it.
1 The BT-D5 is compatible with iPod touch (1st, 2nd, 3rd and 4th generation), iPod classic (this refers to the 6th generation iPod or later), iPod nano (3rd, 4th 5th and 6th generation - iPod nano 5th generation's radio feature not supported), iPhone, iPhone 3G, iPhone 3GS and iPhone 4.