Stylish mobile headset for calls and music
Make crystal clear calls with the stylish HS-660i2 in-ear headset, which comes with an in-line remote volume control that integrates the microphone for voice communications. Enjoy incredibly smooth acoustic playback from the unique tilt-pipe acoustic chambers powered by high performance Neodymium drivers - delivering a sweet range with a deep bass response optimized for your iPod®, iPhone® or iPad®. The package comes complete with soft, multi-sized silicone earbuds to let you personalize the fit of the HS-660i2. These buds block out unwanted noise so that you can listen clearly in lower volume levels. Available in a choice of 5 vibrant colours: Pearl White, Cobalt Blue, Ruby Pink, Lime Green and Magna Black, pick one to match that unique style of yours!
Convenient control
Have easy control over your music and voice calls via the slim in-line remote control.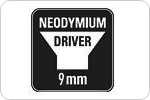 Dynamic neodymium drivers
Stylish closed type earphones powered by 9mm neodymium drivers deliver deep bass sound for use with your iPod, iPhone or iPad.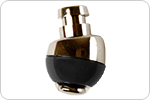 Smooth acoustic playback
Designed with ear-canal ergonomics in mind, it features a unique tilt-pipe acoustic chamber that reproduces music with full-range smoothness.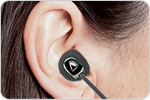 Excellent noise-isolation capability
The functional in-ear design with soft silicone earbuds offers superb noise isolation, thus creating an ideal shield against engine noise while travelling in an airplane, for instance.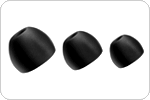 Best fit for your ears
Get the best fit for your ears. Choose from three different sizes of soft silicone earbuds that come bundled with the HS-660i2.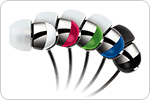 Color your music
Comes in a choice of 5 vibrant colours - Pearl White, Cobalt Blue, Ruby Pink, Lime Green and Magna Black - to match your style!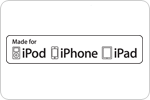 Made for iPhone, iPad and iPod
The headset is designed to meet the performance standards for optimized music playback and voice communication on Apple's digital devices.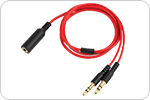 Split your audio output and microphone input
To use this product with notebooks or PCs with separate audio and microphone connectors, you may use the
Sound Blaster Audio/Mic Splitter Adapter
(available separately).
* Pricing and product specifications are subjected to change without prior notice. Not all of these colour options may be offered in all regions. Please check with your local sales representatives or offices for product availability.