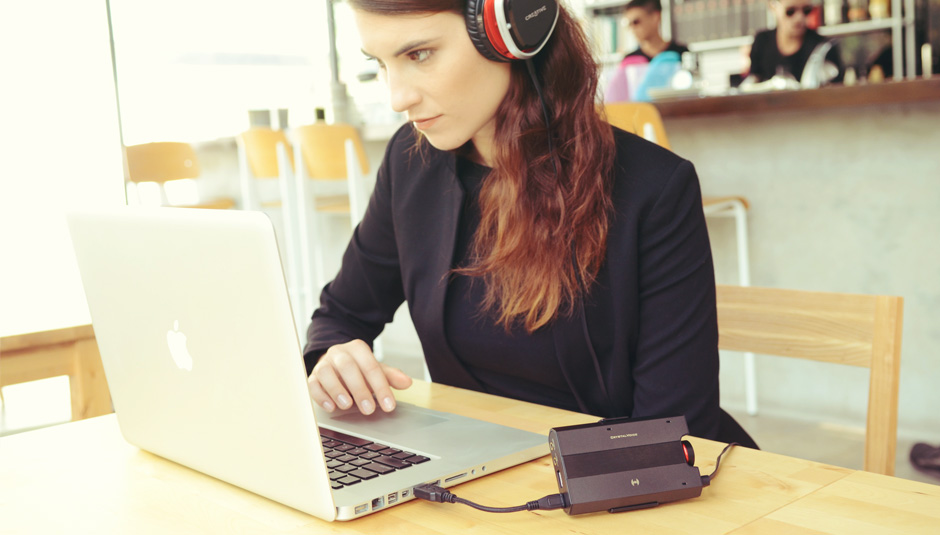 The Sound Blaster E5 is the result of Sound Blaster's relentless audio innovation since the PC era, backed by decades of legendary audio engineering expertise. With a proven track record of providing high-fidelity PC audio for discerning ears, the E5 now brings a high-resolution audio experience for your use with laptops, smart phones and tablets.
The Sound Blaster E5 is designed from the ground up, to reproduce high-fidelity audio with minimum distortion and noise. It is built on the flagship Cirrus Logic CS4398 Digital-Analogue Converter (DAC), with an impressively high 120dB signal-to-noise ratio (SNR) that supports sample rates of up to 24-bit/192kHz resolution.
Sound Blaster E5 is able to decode audio files ranging from MP3s and CDs (16-bit/44kHz) to high-resolution 24-bit/192kHz files, be it from your PC / Mac or other smart devices.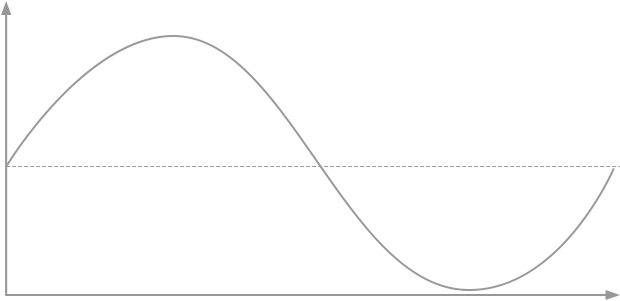 Time
Original
16-bit / 44.1kHz
24-bit / 192kHz
High-resolution audio is measured by bit depth and sample rate that are used in digital audio recording. The higher the number of bits, the closer the audio file is to the original sound.

LOW GAIN - 16Ω - 120Ω (GAIN: UP TO 5 dB)

HIGH GAIN - 120Ω - 600Ω (GAIN: UP TO 15 dB)
A best-in-class Texas Instrument TI6120A2 headphone amplifier enables you to power any of the headphones available in the market, giving you clarity, details and a total harmonic distortion value plus noise (THD+N) of <0.005%.
The headphone amplifier utilises a current-on-demand design in the headphone output, which enables the amplifier to respond quickly without the risk of output distortion. When a large amount of power is suddenly needed, the amplifier can respond extremely quickly without raising the noise floor and thus degrades the signal-to-noise ratio.
Have a variety of normal and power-demanding headphones in your collection? The dual gain switch also allows you to match your headphones to the correct impedance from the Sound Blaster E5. This gives you flexibility in listening to music at the most optimal playback volume.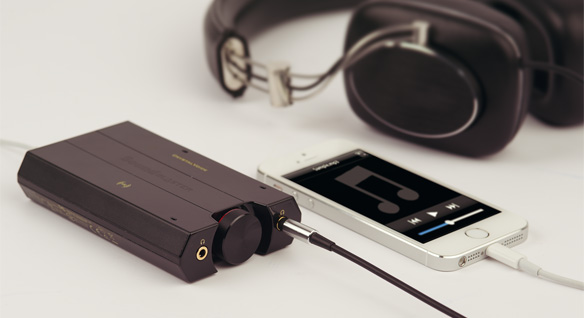 You can play digital audio direct from your iOS or Android* device via the Sound Blaster E5 to your headphones. Digital audio signals are sent from the device directly to the Sound Blaster E5, which decodes them without any degradation in audio quality. What you get is audio playback at its highest fidelity.
Click here for phone models that are compatible with this feature.
Enjoy immersive audio realism, with SBX Pro Studio when you are watching movies or playing games.
SBX Pro Studio can be switched off, when listening to high-quality lossless audio, so that you may get to enjoy the songs unprocessed, in the way you desire.

The Sound Blaster E5 features Bluetooth 4.0 with NFC technology for one-touch, fuss-free Bluetooth pairing. A wide range of Bluetooth streaming codecs such as aptX Low Latency, AAC and SBC which enhances audio quality wirelessly, are also supported.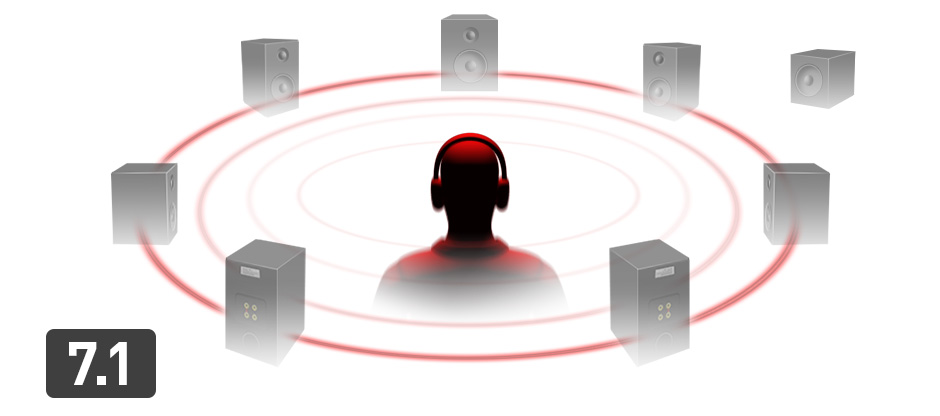 Sound Blaster E5 supports virtual 7.1 channel audio input signals to deliver realistic gaming effects and audio cues with near-perfect accuracy and positioning via your headphones!3

Headphones, like consumer speakers, have defined classes allowing manufacturers of amplifiers, receivers, etc to design with those standards in mind. Generally different types of headphone fall between 16-32 ohm for consumer or home applications and 600 ohm for broadcast applications.
When designing the Sound Blaster E5, our engineers pushed boundaries by specially engineering the headphone amplifier circuit with a very low output impedance of 2.2 ohm. This allows the Sound Blaster E5 to accommodate both extreme ends of headphones in the market - from the most demanding high-impedance studio headphones to the most sensitive low-impedance in-ear monitors - while minimizing the introduction of distortion to audio content caused by variance in frequency response.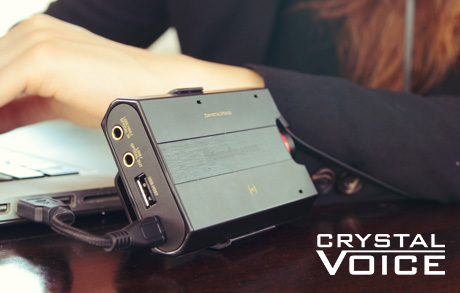 The Sound Blaster E5 records via built-in dual microphones with auto-orientation sensor that reacts to landscape or portrait orientation, allowing stereo recording to smartphones or tablets.
The Sound Blaster E5 also features CrystalVoice™ Technology, a suite of audio recording enhancements built into the digital signal processor (DSP) that reduces noise and provides for clear calls and voice recordings, be it from mobile phones or via Skype conferencing.
Communication profiles such as A2DP, HFP and AVRCP are supported for voice calls.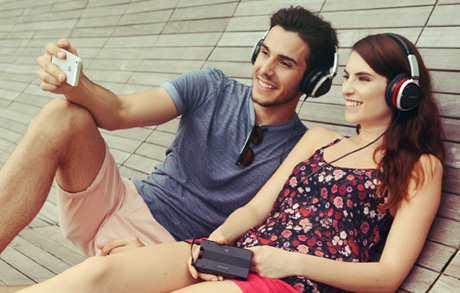 Dual headphone output lets you and your loved one enjoy your favourite tracks simultaneously!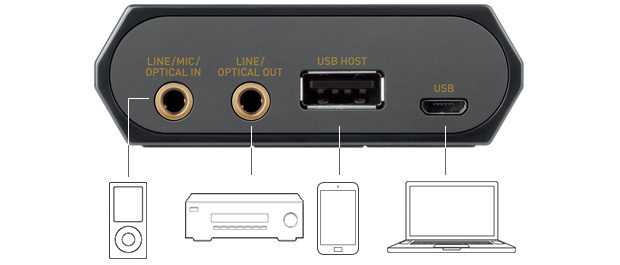 Sound Blaster E5 sports a Cirrus Logic CS5361 114 dB, 192kHz stereo Analog-to-Digital Converter (ADC) that allows audio recordings of the highest fidelity to your device, be it PC, Mac or even smart devices.
In addition, Optical I/O supplements the Line I/O to offer unparalleled connectivity options from and to digital and analog sources, such as today's gaming console, high-definition media player and even modern TVs.

The Sound Blaster E5 supports asynchronous mode which is superior to other USB data transfer modes. Data is 'pulled' from the computer under the control of the Sound Blaster E5, not 'pushed' to the DAC.
This allows the DAC to process the digital signal at its optimal timing, thereby ensuring the lowest possible output jitter and best possible sound quality with minimal distortion.

The Sound Blaster E5 is a MFi-approved product, designed to work seamlessly with iPod, iPhone, or iPad, and has been certified to meet Apple's performance standards.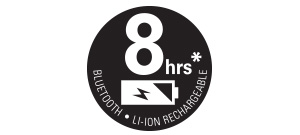 The Sound Blaster E5 is equipped with a 3200mAh battery, which offers up to 8 hours1 of playback, even when using the Bluetooth connectivity option.
Sound Blaster E5 also allows Android users to charge their smart phones while on the go.

This gaming centric technology allows you to hear your enemies from further away and gain a distinct tactical advantage in combat.2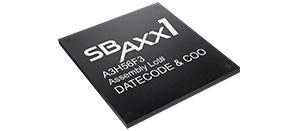 Sound Blaster E5 is built to also entertain. Incorporated into Sound Blaster E5 is a SB-Axx1 multi-core processor, designed to improve audio experiences, such as increasing the depth and spatial width of the audio you hear, be it in movies or gaming.
The SB-Axx1 processor also saves all your audio EQ settings so that you can enjoy your personalised sound, whether the Sound Blaster E5 is connected to a computer, or as a stand-alone headphone amplifier.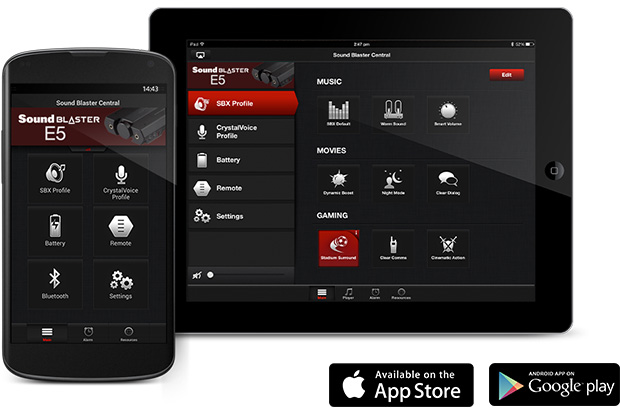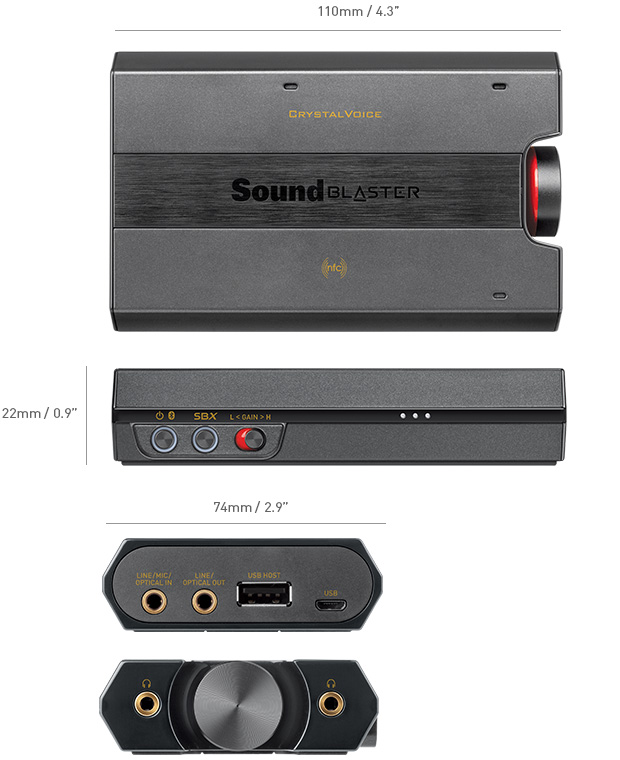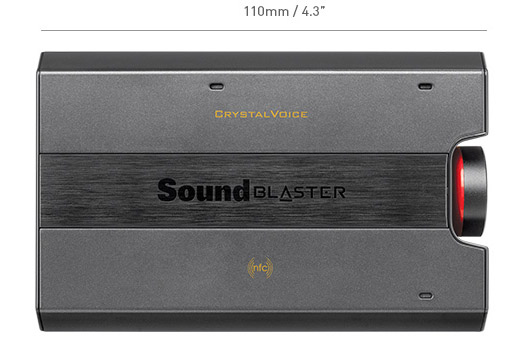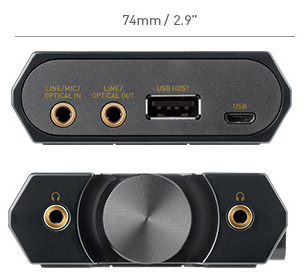 1 Actual battery life will vary with usage scenarios, settings and environmental conditions.
2 Driver & firmware update required for added Scout Mode functionality.
3 Software & firmware update required for added 7.1 virtual surround sound functionality, and is for Windows only.